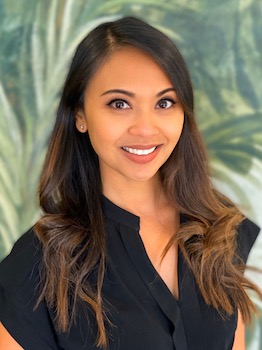 After practicing as a general dentist for several years, I found my true calling was providing dental care for children and I made the decision to specialize in pediatric dentistry.
I have the opportunity to watch children grow up in the practice, from the time their first tooth erupts to the time they graduate high school. It is an honor to be part of each child's life, sharing in their adventures and dreams: I love that I spend my days with such amazing people and get to help them develop healthy, confident smiles!
~ Dr. Carrasco
Education and Experience
Bachelor of Science in Biology, University of California Los Angeles
Doctorate of Dental Surgery, University of Southern California
Certificate in Pediatric Dentistry, Texas A&M University Baylor College of Dentistry
Dr. Carrasco has practiced dentistry since 2008. She was a general dentist in the U.S. Air Force until 2013, when she decided to pursue her specialty training in pediatric dentistry. She is passionate about establishing positive dental experiences early in a child's life, through gentle, compassionate, team-approached care.
Through active pursuit of continuing education (CE), Dr. Carrasco stays current on the latest developments in pediatric dentistry. She is a member of the:
American Academy of Pediatric Dentistry
American Board of Pediatric Dentistry
Greater Dallas Pediatric Dental Society
These professional organizations offer numerous CE opportunities to their members.
Throughout the year, Dr. Carrasco participates in seminars, attends meetings and lectures, and stays up-to-date with the latest research. This commitment to constantly furthering her knowledge ensures she is providing the latest, proven treatment to her patients.
Beyond the Office
After growing up in Oxnard, California, and being stationed overseas while in the Air Force, Dr. Carrasco now resides in Richardson with her family. She and her husband, Ernie, have two children, Ernie Jr. and Noah. Her family also includes their two Maltese dogs, Coconut and Tiger, and their German Shepherd, Rex.
Most of Dr. Carrasco's days start with working out at the gym. Otherwise, she can be found watching movies, cooking, reading, and attending sporting events. Above all, she values time with her family, whether they're relaxing at home or traveling together.