Every Child Deserves a Healthy and Confident Smile!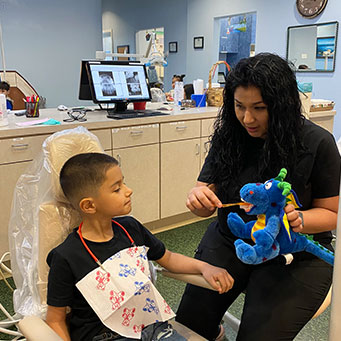 Smile Island Dental provides a safe and supportive atmosphere, where every child is welcomed and made to feel at home.
We know early dental experiences have a lasting effect on a person's feelings about oral healthcare. The more positive experiences they have, the more comfortable they are in the dental environment, and the more motivated they are to keep their smile clean and healthy.
Our goal is ensuring each of our young patients graduates to an adult dentist with a beautifully healthy smile – and is empowered to care for it, for life!
Why Choose Smile Island Dental for Your Children?
Ours is a warm and inviting pediatric dental office, with a kid-friendly atmosphere. We love being surrounded by growing smiles and value each child for who they are!
Our History: Smile Island Dental opened in 2003, to serve our community and provide trusted care. Since then, we have built a stellar reputation for providing the most advanced clinical pediatric dentistry and exceptional customer service.
Our Doctor: Dr. Carrasco is a board-certified pediatric dentist and proud military veteran as well a mother to her two sons.
Our Team: Each member of our front office and clinical staff is highly-trained, compassionate, and dedicated to providing positive and fun dental care. They share Dr. Carrasco's' dedication to treating every child like family and to working closely with parents to ensure everyone is heard, informed, and comfortable with the dental experience.
Our Focus: Our doctors and team spend a lot of time providing useful, age-appropriate education. We teach patients and parents how to properly brush and floss, provide nutrition guidance, and talk about the importance of healthy activities, too. This helps children establish good habits at an early age and ensures they are prepared to keep their smile healthy as adults!
Schedule a Visit
Everyone at Smile Island Dental looks forward to welcoming you and your family to our practice. Please contact our Plano, TX pediatric dental office, serving Dallas and Frisco, to schedule an appointment for your child, or children, today!