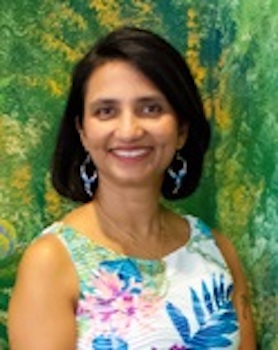 Being a pediatric dentist helps me affect the oral health of our population from an early age. The sooner you help make a change in an individual's health, the more permanent that change will be. In turn, this helps improve the oral health of the community, society, state, country, and world.
Happy child patients end up being happy adults: that, to me, is an enormous impact on our society's future!
I truly love working with children and molding them to be healthy adults. Giving them positive experiences, early and consistently, is key to achieving that goal. At the same time, I can be fun and playful with patients: I don't have to act like a serious, lecturing doctor! Instead, we talk and laugh together, building friendships that create a trusting bond. When a little one trusts and feels safe with me, they're more open to listening to what I have to teach and more likely to develop better practices.
That is true with parents, as well. I love educating new parents in taking care of their baby's oral health, as that helps prevent oral disease and future health issues!
Education and Experience
I hold a BDS from Nair Hospital Dental College in Mumbai, India. My Doctorate of Dental Surgery was awarded by Baylor College of Dentistry in Dallas, Texas. I also hold a Master of Science from the University of Melbourne in Australia.
I have been a practicing dentist since 1985 and a pediatric dentist since 1999. Dentistry requires not just brains but fine motor skills: I enjoy the art and the science of the field, as well as the challenge of working with individuals at various stages of development.
Each of my patients is an individual, deserving dental care designed to meet their clinical needs, provided in a physically and emotionally safe manner. I want to make sure every child feels secure and comfortable during visits, whether they're here for a checkup and cleaning or a more involved procedure.
Continuing Education
Continuing education is crucial if I am to stay up-to-date with the advancements in healthcare and the latest technologies. It is important to provide patients the best possible options to keep them healthy!
I am a founding member of the Share Study Club in Dallas. I am also an active member of the American Academy of Pediatric Dentistry and the Greater Dallas Society of Pediatric Dentists. These organizations provide access to the latest research, as well as the newest methodologies and technological advancements.
Additionally, I am an Associate Professor at Texas A&M College of Dentistry in Dallas and a Public Health Dentist in the U.S. Army Reserves.
Beyond the Office
Originally from Mumbai, India, I have lived in Dallas since 1987. My husband is a businessman and we have four children between us. Our oldest, a son, is an engineer; our three youngest, all daughters, are still studying. As a family, we love hiking and traveling.
I love climbing ans hiking mountains and have done Kilimanjaro, Everest Base Camp, the Inca Trail, Mt. Kailash, and a few others. When home, I like to read mysteries and watch movies.
Helping Others
Every week I volunteer at a meditation center in Plano. I feel meditation is very important in today's world to stay focused and free of stress. I volunteer my time with this non-profit so I can help people in our community achieve stress-free lives and greater inner peace.
That said, I am even more passionate about being part of the U.S. Armed Forces. I enjoy taking care of the soldiers who ensure our freedoms. That is the most rewarding work I have done, in my entire life.