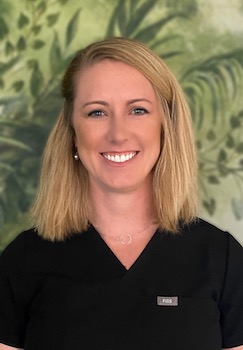 When I was in the fourth grade, I decided I wanted to become a dentist. I loved how my dentist improved my smile and confidence, and I wanted to make that difference in others. I am here to pass that smile and confidence to each of my patients because I know a healthy, glowing smile makes you the best YOU.
One of the most rewarding aspects of pediatric dentistry is meeting the whole family and providing the best dental care to the smallest members of that family. I love providing guidance on how to improve oral hygiene for a lifetime of tooth health.
Education and Experience
Undergraduate degree, Texas A&M University
Doctorate of Dental Surgery, University of Colorado School of Dental Medicine
Advanced Education in General Dentistry, Scott Air Force Base, Illinois
Texas A&M College of Dentistry Pediatric Dental Residency, Summer 2020
I have been practicing dentistry for four years within the U.S. Air Force. While stationed in Germany, I had the honor to serve active duty members and their families. It was during that experience that I realized I love treating the smallest members of the families the most.
During my time in the USAF, I had many opportunities to further my education and training. Likewise, as a member of the American Dental Association, I have access to the most current information, research, and publications.
This ongoing continuing education allows me to learn about the newest dental materials and techniques. Through furthering my education, I stay at the leading-edge of technology and learn the best practices to give my patients the best experience and results possible.
Beyond the Office
I grew up in Grand Junction, Colorado. During my service overseas, my husband, Sam, and I decided our next step in life was to move back to his hometown of Dallas; we arrived here in September 2019.
Sam is my adventure partner and constant supporter, and we share our love for Woodford: a big, hairy, slobbery, lovable mess of a dog.
If I'm not in the office, I can be found walking Woodford and spending time with friends and family. I also enjoy learning a new recipe and baking delicious pies, reading good books, skiing in Colorado, and traveling the world with Sam.